AtomSvet's Lighting for Explosive Facilities
Adddate:2015-5-14 Hits:2372
AtomSvet's Lighting for Explosive Facilities
The current trend, due to the constant increase of energy prices and lack of capacity, is for the management of large industrial enterprises to search for energy saving technology.
Energy saving and implementation of advanced energy-efficient technology become one of the priorities in various industries. One of the most effective energy-saving measures is the upgrade of lighting systems and transition to LED based lighting systems which have a much lower power consumption compared to conventional light sources (filament, mercury, and sodium lamps) and longer service life.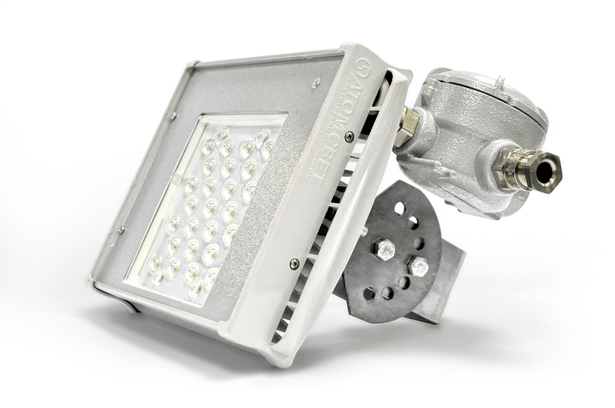 AtomSvet's LED luminaires for explosive facility applications. (AtomSvet/LEDinside)
Industry is one of the main energy consumers with applications for LEDs. Industrial lighting involves the use of several types of lighting systems. For lighting workshops, suspended lighting systems are usually used. For special operating conditions, explosion-proof lighting systems can be installed if required. They are generally used at facilities with high fire- and explosion risks. In such premises, the operation specifications for all electrical appliances and equipment have to be met; however, lighting equipment requires special attention.
"High-quality LED based lighting luminaires are suitable for almost any environment. Currently available LED based luminaires, with an operational life of more than 50,000 hours, are replacement-free for at least 10 to 12 years,"said Vadim Dadyka, Director General of AtomSvet. "Even at the end of their working life these lighting systems still operate due to their sophisticated technology failure of individual LEDs does not lead to the failure of all other LEDs, as is often the case with low-cost Chinese versions."
When choosing lighting devices for facilities with a potentially explosive atmosphere, the prevention of explosions or, in other words, the elimination of the possibility of formation of explosive atmospheres and sources of their ignition is in the focus of attention.
General-purpose industrial process equipment is a possible source of ignition of explosive atmospheres. The ignition can be caused, for example, by an electrostatic discharge or overheated equipment. Explosion-proof equipment is constructed in such a way as to eliminate of the possibility of it being an ignition source and this requires a wide range of special structural and organizational measures. There are several methods of explosion protection aimed at the prevention of possible contact between internal sparking and heating elements of the equipment and the external explosive atmosphere or by explosion localization within the outer casing of equipment.
In addition to explosion-proof marking, the luminous flux of a luminaire, its power consumption, together with operating voltage, are those key technical parameters which must be taken into account when choosing explosion-proof LED based luminaires.
The robust design, the use of high-quality components, and, most certainly, the level of workmanship and quality control contribute equally to the quality of explosion-proof lighting equipment. Generally, all of the abovementioned requirements to the lighting system design have to be met, and all the steps of the process chain have to be performed.
During the sourcing of lighting equipment for explosive facilities, the following must be taken into consideration above all else:
First and foremost, explosion-proof certification of explosion-proof luminaires.
Furthermore, the reference sheet and portfolio of completed projects must be considered.
"We represent the oil industry. In workshops we are working with explosive diesel fuel chemicals, therefore, for our lighting we have been looking for the most advanced explosion-proof versions of LED based lighting systems with the best value for money. As a result, we have purchased the explosion-proof luminaires from AtomSvet. The LED based lighting systems produce a very high quality of light, thus, creating a comfortable environment for our staff," - said Emil Mukhametshin, General Director of the international chemical company Chemicals.
Today, there are not so many companies in the European market capable of meeting the stringent requirements for explosion safety, whose products have been ATEX-certified. However, even certified products may scarcely ever be considered safe enough, since such certificates are issued by Asian companies, still for Asian manufacturers - the fact that should put any prospective customer on the alert.
Nevertheless, the products of some non-European manufacturers acting in the European market are as good as the similar products of European brands (and, by a number of characteristics, are even surpassing their counterparts), quite apart from the fact that they are cost-effective by far.
Moreover, the operational life of LEDs constitutes several tens of years, which makes explosion-proof luminaires a very promising and profitable investment for large industrial enterprises and industry commercial providers.
The range of explosion-proof LED luminaires from AtomSvet Russian manufacturer may serve as a model of such products.
These LED luminaires are designed for operation in gas- and dust-hazardous zones 1 and 2, over a range of temperatures from 60pС to +60pС, both indoors and outdoors.
The power supply unit takes care of the start up current and is equipped with high-frequency interference suppression and reactive power compensation systems.
Explosion-proof AtomSvet® luminaires enable energy costs to be reduced by up to 70% compared with conventional light sources.
Through the use of industrial class electronic components, integrated overvoltage and overheating protection devices, the luminaires manufactured by this Russian company are reliable, durable and do not require any special disposal or maintenance.
For more information visit http://www.atomsvet.com/