Edison Opto and Epistar have jointly won a 10 million LED bulb Indian government contract valuing NT $300 million (US $9.77 million), according to an UDN report.
The Indian government project sector is estimated to be demanding 100 million LED bulbs this year, presenting plenty of opportunities for Taiwanese manufacturers.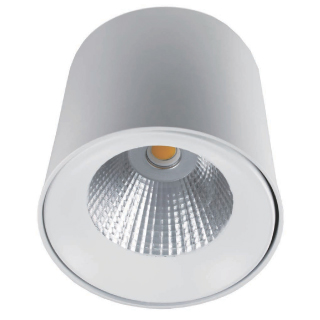 Edison Opto and Epistar have teamed up to deliver 10 million LED bulbs to India. The photograph is Edison Opto's COB Ceiling Light. (Edison Opto/LEDinside)
The contract won jointly by Edison Opto and Epistar comprises providing two free LED bulbs to 50 million households. According to the UDN report, Epistar will be supplying LED dies for the bulbs. Edison Opto is expected to rake in NT $300 million revenue from the project, which is expected to spur its revenue in April 2015 to NT $400 million.
Edison Opto has turned around losses in 1Q15, due to increased automotive LED orders. The company's gross margin in 1Q15 has risen from 8% to 14%. Financial institutes estimate Edison Opto's 2Q15 gross profits will climb up to 15%.
According to LED manufacturers, the Asian LED lighting market has been on the rise in 2015. Limited growth will occur in the Japanese market in the near future as LED market penetration rates peak to 70% this year. The timely emergence of strong Indian LED market demands can replace the saturating Japanese market.