Litecool (http://www.litecool.co.uk), a innovator in LED packaging and thermal performance, announced today that it has filed a patent on a PCB-free LED package known as Lumen Block™. This new technology enables the assembly of LED arrays with no circuit board putting the LED package directly on the heat sink for ultimate thermal performance and cost reduction.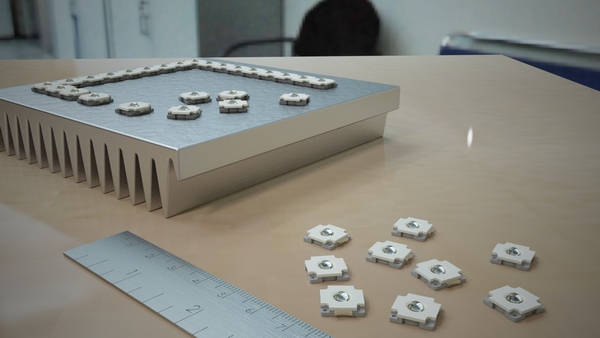 A group of Litecool's Lumen Block, (All photos courtesy of Litecool)
The Litecool's Lumen Block™ is an LED package that can connect directly to the next LED package without the need for a circuit board to hold it or provide connections. They can be placed directly onto a heat sink and automatically clip together forming mechanical and electrical connections. That means no soldering, no PCB and direct thermal connection to the heat sink.
This technology is set to shake up the existing supply chain by removing the need for PCBs and SMT assembly. Litecool takes bare chips from die manufacturers and puts them in their package which they supply direct to luminaire manufacturers who can then simply place them on their heat sinks. This shortened supply chains means the system is more easily optimized for specific applications, reduces time to market for new products and reduces costs.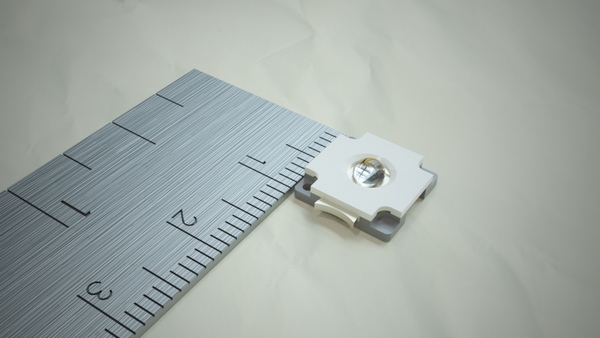 A single Litecool Lumen Block is about 1 cm.
"At Litecool we like to enable higher performance and lower cost luminaires. Our technology so far has doubled lumen density for our customers giving significant system cost saving. The Lumen Block will take this a big step further removing MCPCB materials and SMT assembly from the LED array making it fast and easy for luminaire manufacturers to arrange LED arrays with a simple pick-n-place machine." James Reeves, CEO, Litecool.
"Instead of trying to reduce the thermal resistance of an individual component in a system we ask ourselves why these components were in the system at all. By removing the circuit board form the system we can optimize cost and performance. The Lumen Block is the collimation of Litecool's technology optimizing thermal performance and manufacturing." Elwyn Wakefield, Chief Packaging Engineer, Litecool.
The Lumen Block™ will be available with a variety of LED die inside giving a choice of performance. First product will be a 10mm x 10mm package containing a Cree Gen 3 LED capable of nearly 150 lm/W. The packages will fit standard optics from Carlco giving a range of high efficiency beam patterns.